The Lazy Pit Bull is a pet-centric lifestyle blog on a mission to bring our readers the best in fabulous pet-friendly living.
We feature reviews and giveaways of the very best pet brands, recipes for healthy homemade treats, fun and simple DIY projects, and inspiration and ideas for pet-friendly living with your 4-legged companions.
The Lazy Pit Bull was established in 2012. We are proponents of responsible pet ownership, shelter and rescue adoption, and spaying and neutering. We speak out against puppy mills, dog fighting, and BSL (breed specific legislation).
Our blog has been featured in a number of well-known publications, including these fine magazines:
We are so humbled to have been recognized by the following incredible organizations: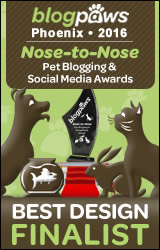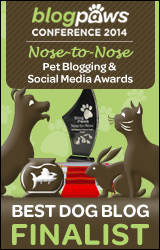 Want to meet our pack?
Pictured above is our sweet girl Nike, a Pit Bull-Boxer mix, who is the inspiration behind this blog. She was born in February 2010, and has been a part of our family since she was just 4 weeks old.
This is Sadie. We were blessed to have her in our family for more than 16 years. She departed for the Rainbow Bridge on June 27, 2015. Please take a look at our video tribute to her.
Our evil cat is Snickers. He's a rescue who's been with us for all of his 13 years. He really wishes there were less dogs in the house… maybe that's why he's so evil.
Us. We like movies, sports, traveling, and dogs!
I am a Virtual Assistant and Social Media Strategist for bloggers, handmade shop owners, and small businesses. I am also a shelter and rescue volunteer. My dreams are to travel to Italy, to live in Key West, and for animal shelters to become obsolete because everyone spays and neuters their pets and no one ever abandons an animal in a cold, lonely shelter.
Visit my Disclosure page for more information about The Lazy Pit Bull policies. Still have questions? I welcome your email!
{Photos on this page are courtesy of our friends at Smiling Dog Photography, Indianapolis, Indiana}